How to Fix Car Tail Lights
If your tail lights are broken or not illuminating, don't take your car to the mechanic! For a straightforward light or fuse replacement, you can fix your tail lights yourself for a fraction of the price. You can be cited by a traffic officer if your car tail lights are not illuminating or broken, so don't waste any time. Read on to learn how to fix your car tail lights.
Assessing the Problem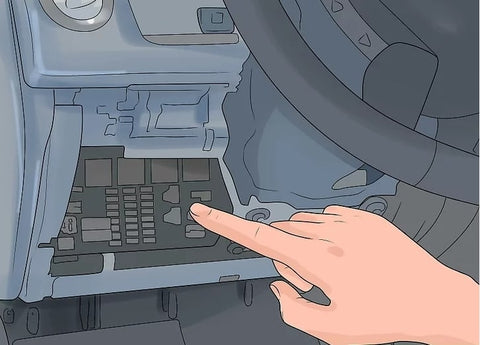 Using a Lens Repair Kit
Repair lens cracks with lens repair tape.

 

Using tape is meant to only be a temporary fix. You purchase a tape or buy a lens repair kit that comes with resin that you simply place over the crack to make it waterproof again.

You want to clean and dry the area where the tape is to be applied. Just before adding the tape wipe the area with a lint-free cloth that is wet with rubbing alcohol, and let it dry, then apply the tape. Do not use glass cleaner to clean the area because the ammonia in the glass cleaner will cause the tape not to stick as well as it should. The last wipe with rubbing alcohol will remove most of the impurities and leave a clean surface.
Measure the size of the crack and cut the tape slightly larger than the damage of the lens.
Remove the backing of the tape.
Smooth out the air bubbles when you apply the tape, so they don't distort the lens.

Repair holes and broken spots with the lens repair resin.

 

If there's a gouge or broken spot, you can fill in the hole with plastic resin. Buy a lens repair kit that comes with supplies for filling in the holes.

 

Cover the outside of the taillight with the plastic tape that comes with the repair kit, to prevent the plastic resin from leaking through.

Mix the resin with a catalyst and coloring agent according to the instructions included in the kit. Wear a pair of disposable gloves during this part of the process to avoid getting resin on your skin.
Pour the resin into the provided syringe.
Squirt the resin into the hole, making sure it covers the entire area that needs to be filled.
Let it cure for at least 2 hours.
Remove the tape and sand the surface to smooth it out.