How to Get into Full Time RV Living
The RV industry is booming right now. According to the RV Industry Association, 430,000 recreational vehicles were sold last year. This is 15% higher than the previous year. Surprisingly, millennials are the top purchasers of these RVs; RV living is not just for retired folks anymore.
Almost a year ago we took the leap into full-time RV living. We received some life-altering news that made us reevaluate how we were living our lives. We wanted a way to travel more while having the comforts of home and bring our dogs along. We wanted to be able to explore more of the country but be able to come home to Colorado and be with family whenever we wanted and for however long we wanted. More than anything, we wanted to start checking off more items on our bucket list and living the life we had always dreamt of. Full-time RV living and starting FollowYourDetour.com was the perfect solution.
If you find yourself dreaming of the RV lifestyle too, but aren't sure how to achieve it, we are here to help. The process, while overwhelming at times, was so worth it. We love the freedom, flexibility, and spontaneity the lifestyle offers. We love it so much that we've gained a whole new passion for helping to inspire others to try out the lifestyle. We hope this article helps you understand and prepare for the steps necessary in becoming a full-time RVer.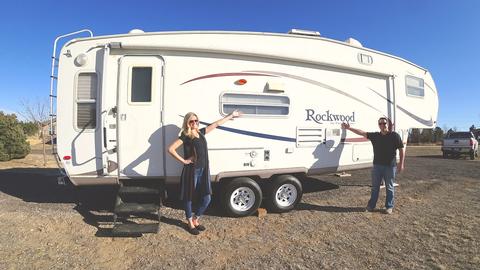 Step 1: Pitch it to your family
We've met a lot of couples on the road who say that their significant other had to sell the idea of full-time RV living to them. It's not uncommon for one person to be more on board than the other. So, don't be surprised if your partner takes some time to warm up to the idea.
You may also have to convince the rest of your family that you aren't crazy. Everybody will have an opinion about your choice to live an alternative lifestyle. You'll also have to understand that some of your loved ones may not support you until you are successfully living the lifestyle and showing them it's possible.
Pro Tips:
1. Connect with other RVers.
It always helps to see how real people who are similar to you are living your dream. Social media makes it easy to find and connect with people. Search the hashtags #RVlife, #fulltimeRV #homeiswhereyouparkit…you will find hundreds of thousands of people. Reach out to them and ask them how they did it. We get lots of questions from strangers, and we are always happy to help other people achieve full-time RV living.
2. Remind yourself why you're making this lifestyle change.
How will RVing improve your current lifestyle? Are you bogged down with yard work and other household chores and rarely getting to enjoy your weekends? Do you love to travel but can't afford it or make time for it? Think about the benefits of full-time RVing, and present those as solutions to the pain points in your life. RVing won't solve all your issues, but it can add some great benefits that you may be currently missing out on. We love the travel that RVing offers, but it has also strengthened our marriage, our productivity, and creativity in work, and has eliminated some sources of stress in our life.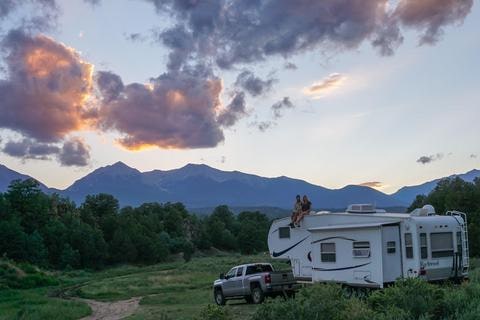 Step 2: Determine How Much It Will Cost
RVing can really cost as much or as little as you want. You can buy an older, used RV to save money upfront. Then, you can find free places to park, save on gas by limiting your travel, and stick to free, outdoor activities in the areas you visit.
On the flip side, you can live a pretty luxurious life on the road too. More and more, RVs are being designed for full-time living and offer many of the same features that houses do (washer and dryers, kitchen islands, dishwashers, etc.). You can also find RV resorts all over the country with all the amenities of a permanent home.
Here are the RV specific expenses you will need to consider:
Buying an RV.

 

If you choose to finance an RV, you'll need to factor in the monthly payment.
RV and car insurance
RV parks and campgrounds.

 

You can find places to park for as little as $20/night. You can also occasionally find free places to park on BLM land. Keep in mind that free parking will require dry camping, or "boondocking", which means you will not have access to hookups.
RV maintenance/repairs.

 

This will depend on the age and type of your RV. However, ALL RVs require maintenance and repairs…even brand new ones.
Propane.

 

Many RV systems, such as heating, refrigerators, and ovens/stoves, run off propane.
Gas
Internet
More Pro Tips:
1. Find free spots as often as possible
There are many apps and websites that help you find free RV spots across the country. We use Campendium, All Stays, and Hip Camp most often for this.
2. Utilize RV Memberships
The RV industry is full of various memberships that help you save money on various RV costs. Their greatest benefit is discounted RV park and campground fees. Passport America, Good Sam, and Thousand Trails are just a few that we would suggest looking into.
3. Stay in one location
If you prefer staying at RV parks and campgrounds, a good way to save money is through extended stays. Most parks and campgrounds offer weekly or monthly rates, which reduces the nightly cost.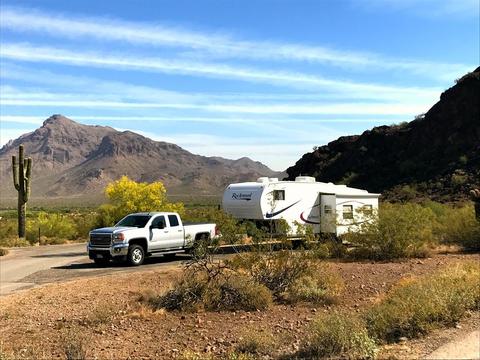 Step 3: Earning Income on the Road
We have found that having a source of income is the number one barrier or hurdle that keeps people from getting into full-time RVing.
Here are some ideas for making money while RVing:
Find a remote job.

 

Telecommuting jobs are becoming more and more popular. Flexjobs.com is a great place to start.
Start your own online business.

 

Use your skills to make your own money.
Sell products on Etsy.

 

Whether you create arts and crafts from your RV or outsource, Etsy is a great marketplace for selling your handcrafted products.
Start a blog.

 

Creating a website is easier than ever. There are also tons of resources for how to monetize a blog.
Work as a camp host.

 

Many RV parks and campgrounds offer a free spot to park and free amenities if you are willing to work for them. Duties can include working at the front desk and taking reservations to clean and doing maintenance around the park. Some parks will even pay an hourly wage on top of your free lodging.
Find seasonal work in the places you visit.

 

Restaurants, shops, and tour companies in major tourist towns are always hiring during their busy seasons.
Step 4: Find an RV
The first step to choosing the right RV is understanding your options.
1. Make a list of "must-haves"
Just like when shopping for a house, write down what you want in an RV. This can include wish list items, as well as features you will need to best fit your lifestyle and family size. One mistake we made was not taking into consideration the ways that we planned to use the RV. We really wanted to find free spots to park as often as possible. This ended up being challenging for us because the RV we purchased had small holding tanks. This meant that we could only hold enough fresh water to last us 3 days, whereas some RVs can hold enough water for a week. So, be sure to think carefully about all the different features and how they fit your needs.
2. Set a budget
Creating a hard price that you are willing to pay will help you narrow down your options. If you are financing an RV, be sure to understand what you can afford monthly. It can be easy to get carried away with all the fancy features that RV's have these days. But just remember that for a smaller cost, you can do small projects to update the interior. With a little effort and some special touches, you can really transform the RV into a cozy little home inside.  
3. Consider purchasing used
There are definite benefits to buying a brand new RV, such as getting to pick out specific design features and color schemes and the assurance of a warranty. However, RVs depreciate quickly, and even brand new RVs are notorious for having issues. Buying a pre-owned RV can save you a lot of money in the long run.
Step 5: Prepare to downsize
This is a personal process and will look different for everyone.  Your first step in downsizing may or may not require you to sell your current home or find renters to cover the mortgage payment. After that, you'll need to decide which of your belongings you want to sell and which belongings you can keep in storage. This will all depend on how many belongings you have, the size of RV you plan to live in, and what you anticipate your future looking like.
We had already sold our house and downsized to an apartment, so the process was a bit easier for us. We had to find tenants, however, to take over our lease. As for our belongings, we decided to sell the majority of our large furniture items because we figured the cost of storing them long term would end up equaling the cost of repurchasing them.
While downsizing can be an area of stress and anxiety for many, you will quickly realize how little you need. It may be helpful to downsize in stages, a little at a time. It takes us going through our things and "purging" three separate times to complete the process. In fact, we still have things we could get rid of. Once you hit the road, you'll forget what is inside of those boxes and tubs you're storing, and it will be much easier to get rid of more items the next time you go through your belongings.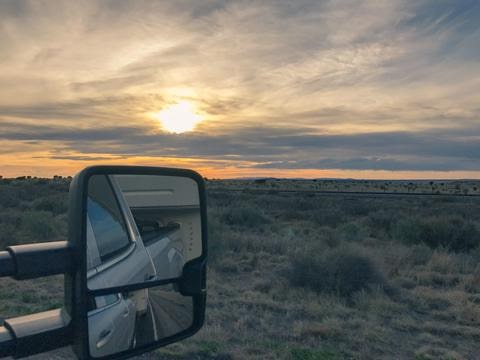 Step 6: What you'll need to Pack
You won't need as much as you think you will. Start with the items that are absolutely necessary for operating the RV. This includes wheel chocks, leveling blocks, a sewer hose, a freshwater hose, propane, and a tire inflator. Tools? You really only need your basics (screwdrivers, drill, pliers, hammer). If you plan to boondock often, you'll need more general camping supplies. Otherwise, you can use that space for "bonus" items like a propane fire pit, a hammock, or your golf clubs.
For clothes, try to limit yourself to one or two of each of the following items: coat/jacket, swimsuit, sweatshirt and sweatpants, tennis shoes, etc. Then, find solid clothes that can pair well with many things. People often refer to this as the "capsule" wardrobe.
The same goes for other everyday items, such as towels, plates, cups, etc. You won't need your full set so only bring one to two of those items for each person living in the RV. Remember, there is not much sink space for dirty dishes and not much hamper space for dirty clothes and linens. Dishes are washed immediately after use and towels are washed weekly, so there's really no need for spare items.
Step 7: Other Things to Consider
1. How to get mail
We use Escapees.com. They can help you set up a domicile, provide you with an address, sort and send you your mail, and other important services for life on the road.
2. How to get Internet on the road
Many people find that using their hotspot on their cell phones and paying for unlimited data is just fine. You will also find that many RV parks offer free wifi when you stay with them. However, we've found that the wifi can be pretty spotty at most parks, especially near National Parks.
The number of steps involved in becoming a full-time RVer can seem overwhelming. Try to set a date that you hope to achieve the lifestyle by. Then you can take one step at a time and set dates for each of those as well. The important thing to remember is that it is possible and there are many resources to help you along the way.
If the full-time RV life sounds interesting to you, chances are good that once you've hit the road, you won't look back. Those obstacles you had to overcome will be a distant memory in your rearview mirror. Happy travels and we hope to see you on the road.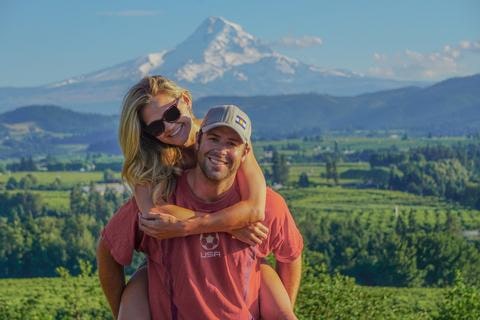 Dan and Lindsay McKenzie are full-time traveling RVers from Colorado. They have been seeking adventure together for 10 years now and have done a lot of international traveling, including living in Costa Rica. They took the leap into full time RVing after experiencing life-altering news. They viewed the news as a life "detour" and started a travel and inspirational blog called Follow Your Detour. Through their detour, Dan and Lindsay have grown more passionate about pursuing their dreams and leading a fulfilling life, while sharing their story in hopes of inspiring others to do the same. They love that RVing allows them to bring along their two dogs and be in nature as much as possible. You can usually find them on the river fly fishing, hiking to sunset spots, or at the local brewery.