Features:
The 

tankless propane water heater

is great for camping, to the beach or family vacations mountain cabins horse stables, etc.

With Oxygen Depletion Sensor protection, it can be also installed indoors where is well ventilated.

Turn the ignition on with 2 "D" cell batteries whenever electricity is not needed!

The ideal low water pressure operating range for the Camplux AY132S is 3.0~110.0 PSI, works easily with great performance.

The system also works great on modified water systems with a 12-volt water pump.

The operating propane gas pressure is 0.4PSI with maximum power output 28,000btu/hour.

The gas water heater can't be used for drinking water.

The tankless propane water heater line was not recommended for elevation above 2000 ft.
Lowest water pressure startup just need 3.0 PSI! It also works great with Camplux 12V 1.2GPM water pump.

The maximum temperature raise is 114.8℉(46℃) and the minimum temperature raise is 46.4℉(8℃)for 1.32GPM.

Its compact size with folding handle keeps it out of the way, allowing for a convenient set-up outdoors.

Flame failure device, anti-freezing protection, and oxygen depletion safety shut-off protection.

1.32 gallons per minute of hot water output, energy-saving technology. You can get instant endless hot water easily wherever you are.
Details:
Item Weight: 14 pounds
Product Dimensions: 11.42*4.33*14.8 inches
Batteries: 2 D batteries required
Size: 5L
Color: White
Power Source: Battery-Powered
Batteries Included: No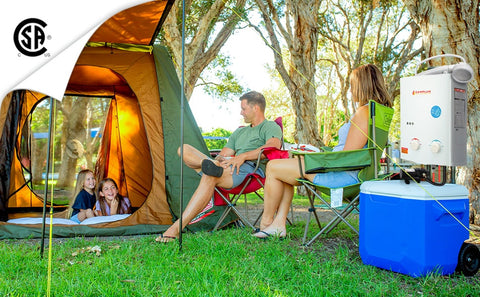 Enjoying Your Camping Trip with Camplux 1.32 GPM Tankless Gas Water Heater
The portable tankless gas water heater is perfect for campsites, cabins, or simply around the house. Wash your car, wash your boat, take a hot shower, wash the dogs, or the horse. The ignition is with 2 D cell batteries so it makes it great for off-grid or other areas where electricity is not readily available. The ideal operating range for the 1.32 GPM Camplux portable tankless water heater is 3.0~110.0 PSI. The system also works great on modified water systems such as a 12-volt pump. Available in liquid propane only.